Urdu with the Oxford Dictionaries API: coding when you are not a professional coder
Urdu with the Oxford Dictionaries API: coding when you are not a professional coder
Simone
Administrator
admin
Are you interested in using the Oxford Dictionaries API with Indian languages?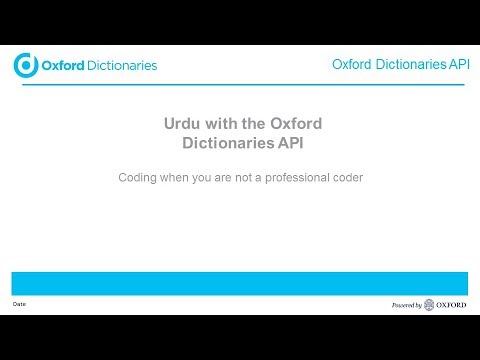 In this session Anindita Basu, a technical writer and self-taught coder tells us how she developed a creative app to translate Urdu words into English, showing synonyms and examples.
She also created Alfaaz the bot, which translates between Urdu, English, and Hindi, finding a way to get endpoints which are not currently available with the Oxford Dictionaries API.
Sandro Cirulli, Lead Language Technologist at the Oxford Dictionaries development team, was present at the session to comment on Anindita's projects and to answer questions.
This session covered:
• An introduction to Anindita's app and bot
• The technical journey of both projects: the difficulties faced, and the solutions found
• Some advice for those beginning to code and using Indian languages: 'What did I wish I knew before I started?'
• Q&A session
Who is this session for?
• Beginner developers
• Those working with Indian languages
• Those working for python for web
• Those interested in creating translation apps and bots
If you have any questions, post them in the comments and we'll get in touch with Anindita or Sandro so they can answer it.
Tagged: