Word Booster: the making of the Oxford Dictionaries API competition winner
Word Booster: the making of the Oxford Dictionaries API competition winner
Simone
Administrator
admin
Sharing the founding experience of word-booster.com with startup folks.
Are you interested in using the Oxford Dictionaries API for language learning apps?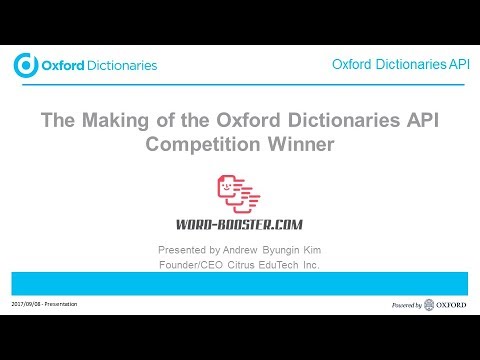 Andrew Byungin Kim, main architect of Word Booster, and winner of the Oxford Dictionaries API competition shared the story behind Word Booster, and the journey until it came to life.
Word Booster allows users to generate word lists and vocabulary quizzes from almost any web page, showing the words in use, and putting these resources together in a quick and practical way.
This session covered:
• An introduction to Word Booster
• The technical journey of the projects: the difficulties faced, the solutions found, the interesting stories
• Some advice for those working on similar projects: 'What did I wish I knew before I started?'
• Q&A session
Who is this session for?
• Those developing language learning apps
• One-person developers and start-ups interested in making the most of the Oxford Dictionaries API
• Anyone interested in knowing more about the winner of the API competition
Have you got any questions to the presenter?
Post them below in the comments and we'll get Andrew to reply.
Tagged: