Best Of
Would you like to understand how lexical data power the development of chatbots?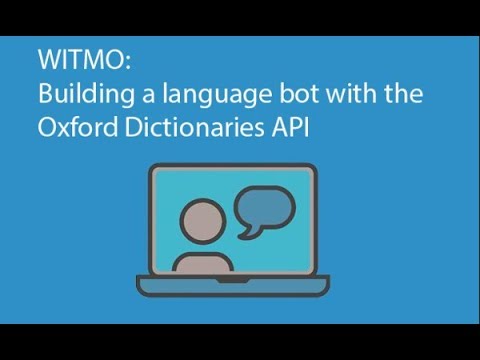 WITMO - What Is The Meaning Of is a Facebook Messenger dictionary chatbot which allows you to search for the definitions of English words. It also provides synonyms, antonyms, and examples, being a handy tool for anyone learning English.
Developed by Sagar Sodah, Founder of Impact Tech, WITMO was one of the winners of the Oxford Dictionaries 2017 API competition, as Best Language-Learning App.
Come and join Sagar for an overview of WITMO and its structure, and the bot's surprising journey from being a personal learning challenge to meeting the needs of an unexpected audience.
This session covered:
What does WITMO do?
WITMO's journey: from a personal learning project to fulfilling the needs of an unexpected audience
Overview of the chatbot's architecture
What I wished I knew before I started the project
Q&A session
Who is this session for?
Anyone developing projects that use linguistic data
Those interested in chatbot development
Those working with Facebook Messenger Bots, NodeJS, Heroku and Gupshup
Those working with language engineering apps
If you are watching the webinar now and have any questions, post them below and we'll get in touch with Sagar for him to reply.




Simone
Having played with your API for just a week or so, I confess I'm really impressed!
One thing, though, that's driving me nuts is the JSON serialization of the delivered object. It appears you wrap everything in a list/array structure - whether it's single element or not!
While I'd guess this might have been done for the sake of consistency - I'm not quite sure it solves as many problems as it creates. It'd be really nice if there was a fix - or potentially a 'shape' definition of the response object in our metadata. Like a mini 'WSDL' so to speak.
Regards,
My use case is synonym clustering.
yaquino337
Hello,
Is there a way to cross reference the sense ID of a sense for a word entry from the dictionary to the ID of a synonym list for the same word? When I call the word endpoint and the synonym endpoint the sense IDs are not matching. In the WEB UI though synonyms are listed for each sense of a word so there should be a way to know which synonym list goes with which sense for a particular word.
Kiril Nikolov
knikolov356