Best Of
I noticed a problem in the English etymologies data. There are spaces consistently missing, e.g. when describing the original languages.
For example, searching for: api/v2/entries/en-gb/magic, the etymologies data of the first entry looks like this:
"etymologies": [
                "late Middle English: from Old Frenchmagique, from Latinmagicus (adjective), late Latinmagica (noun), from Greekmagikē (tekhnē)'(art of) a magus': magi were regarded as magicians"
              ]

There should be spaces in "Old Frenchmagique", "Latinmagicus", "Latinmagica", "Greekmagikē", "(tekhnē)'(art of)".
Maybe they used to be in italics or some other formatting and there was a problem converting the data into plain text?
esoderblom
The Oxford Dictionaries API allows easy access to our world-renowned dictionary content. Use the live documentation here to try it out, view real responses, and explore a growing number of code samples to help you get started.
The documentation is already populated with test credentials to allow you to get started straight away, but to get full, unrestricted use of the API you need to sign up for an account.
Of course, if you have any questions, do let us know in the comments below or by starting a new thread.
You can also get help by posting on the review my code area, or by having a look at our FAQs.
Simone
Would you like to understand how lexical data power the development of chatbots?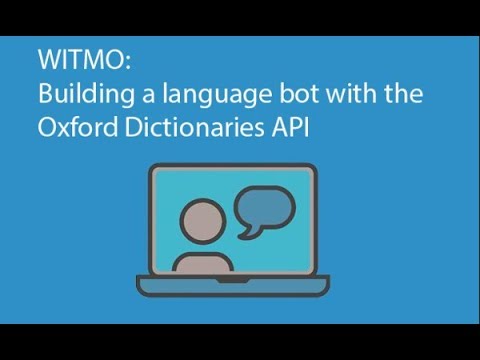 WITMO - What Is The Meaning Of is a Facebook Messenger dictionary chatbot which allows you to search for the definitions of English words. It also provides synonyms, antonyms, and examples, being a handy tool for anyone learning English.
Developed by Sagar Sodah, Founder of Impact Tech, WITMO was one of the winners of the Oxford Dictionaries 2017 API competition, as Best Language-Learning App.
Come and join Sagar for an overview of WITMO and its structure, and the bot's surprising journey from being a personal learning challenge to meeting the needs of an unexpected audience.
This session covered:
What does WITMO do?
WITMO's journey: from a personal learning project to fulfilling the needs of an unexpected audience
Overview of the chatbot's architecture
What I wished I knew before I started the project
Q&A session
Who is this session for?
Anyone developing projects that use linguistic data
Those interested in chatbot development
Those working with Facebook Messenger Bots, NodeJS, Heroku and Gupshup
Those working with language engineering apps
If you are watching the webinar now and have any questions, post them below and we'll get in touch with Sagar for him to reply.




Simone